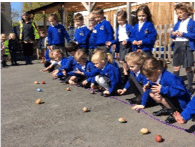 Over the Easter period, the children have been doing lots of different Easter activies; egg rolling, Easter crafts and a decorative Easter Egg competition.
We crafted an Easter cross out of our Christmas tree and every child tacked a nail into it to represent the crucifixion.
We had our Easter service too led by the children – we even had a guest appearance from Rosie the donkey who led the "palm leaf waving" school into church! The service was bursting with song, prayer and families who came to share the celebrations.
As always, the children have been fantastic and are an absolute credit to Pencombe.
We would all like to wish you a very Happy Easter.
"He is not here, for he has risen just as He said"
Matthew 28:6